From the second you read the title, it's obvious that Danika Stone's Internet Famous is geared toward any readers who have ever logged into Tumblr.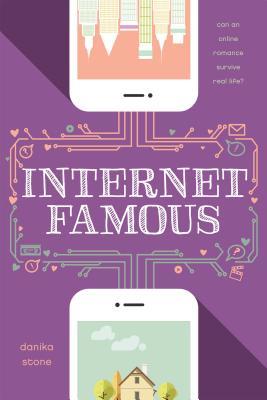 High school senior and internet sensation Madison Nakama seems to have it all: a happy family, good grades, and a massive online following for her pop-culture blog. But when her mother suddenly abandons the family, Madi finds herself struggling to keep up with all of her commitments.
Fandom to the rescue! As her online fans band together to help, an online/offline flirtation sparks with Laurent, a French exchange student. Their internet romance—played out in the comments section of her MadLibs blog—attracts the attention of an internet troll who threatens the separation of Madi's real and online personas. With her carefully constructed life unraveling, Madi must uncover the hacker's identity before he can do any more damage, or risk losing the people she loves the most… Laurent included.
I wanted so bad to like this book from the beginning. I'd heard so many good things about this story and my Tumblr-loving self was excited to read a book about a blogger.
But this one just fell short of expectations.
Now, I'll get to the good stuff first. One of my favorite parts of this book was that the online relationships Madi had were shown as real relationships that are just as valid as relationships made in real life. And anyone who's made online friends has had the struggle of explaining the validity of those relationships, especially to parents.
I also loved Madi's relationship with her sister, Sarah. Solid sibling relationships are insanely left out in young adult books. There are rarely books with good sibling bonds, but this one had a lovely relationship between Madi and Sarah that reminded me a lot about my younger sister and I.
Sarah overall was also a good character. She's on the spectrum and while Madi sometimes for herself upset over maintaining Sarah's schedules, Sarah is never seen as a big burden. Instead, she was a very kind and funny character, and I found myself loving every time she was involved in the story.
Now on to the less positive parts of the book.
For starters, I couldn't appreciate Laurent and Madi's relationship. There are some picture-perfect couples out there, but this was painfully-perfect straight outta Hallmark. Their dates were cute and overall the relationship was developed pretty well instead of the spontaneous "we're totally different and just met but I LOVE YOU!" kind of dating that's common in books (see the next review of NERVE for more discussion on that). But it was a little too cookie-cutter for my taste. That being said, this was definitely not the worst part of the book, just one thing that stuck with me throughout the book.
The way the characters acted also threw me off a bit. I think a little more development would have helped with Madi's parents- first they were played out to sort of be bad guys, but by the end they were good supportive parents willing to help their daughter. Nothing's wrong with character development, but I feel like there should have been more between the two versions of the parents. There wasn't enough time dedicated to their development, so it seemed a little sudden.
Madi's dealing with anon hate also hit me the wrong way. Anon hate is very serious, and Madi had every right to be as upset as she was. But she seemed a little overdramatic when the hate wasn't extreme, and then when it got to borderline stalking (describing her house), I was appalled that Madi didn't immediately call the police. It was just handled very awkwardly.
A big thing that really hit me wrong was the writing style. There were a little too many "Madi was so excited!" (or something along those lines) quotes that made me feel like I was reading a book directed toward a way younger audience, which wouldn't be much of a problem if the entire book was like that. The writing style seemed to appeal to what my 12-year-old sister would appreciate (nothing wrong with that), but I won't be able to let her read this book for years because of the language in the book, which I acknowledge was pretty realistic for a high school senior who blogs. The conflict of interest in the book made me feel like I shouldn't be reading it, but that nobody much younger than me would be able to read it, either.
I'd recommend this book to people who can handle a younger style that still includes more adult language, and anyone who likes a good star-crossed romance. Readers who have blogging backgrounds will also be able to see some of themselves in Madi and her MadLibs blog!
Internet Famous is getting two stars from me- the book just left me more annoyed and frustrated than excited for Madi and her romance.
★★
To those who have read Internet Famous, what did you think about the writing style? Did any bloggers relate to Madi?
And to those who haven't read the book, any what do you think sounds like the best part of the story?
BUY LINKS: